2nd Annual Pineville NC Business Expo - EXHIBITORS/SPONSORS
2nd Annual Pineville NC Business Expo - EXHIBITORS/SPONSORS
Friday, March 24, 2023 (1:00 PM - 5:00 PM) (EDT)
Description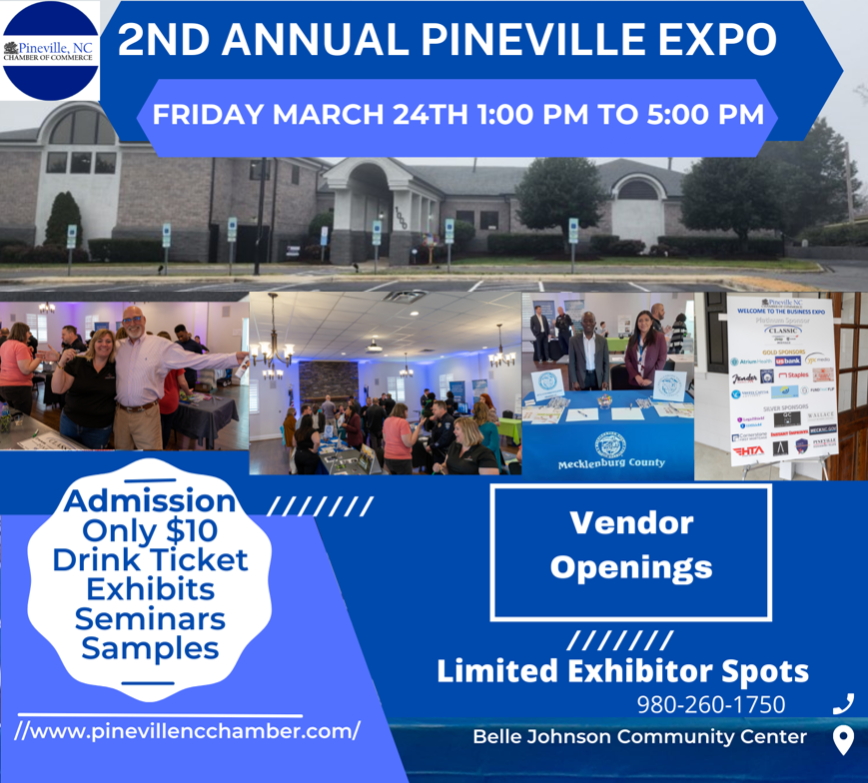 The 2nd Annual Pineville Business Expo is an excellent, cost effective venue to provide exposure to your business and generate new opportunities. Based on last year's highly successful event, the Expo is bigger, with more programs that will attract attendees who are interested in patronizing and building relationships with Expo Exhibitors/Sponsors. We have relocated the Expo to the larger Belle Johnson Community Center in Pineville Lake Park which includes a large exhibition space, seminar rooms and excellent parking.
If you are a business in Pineville, South Charlotte or the adjacent areas of York and Lancaster Counties, this Expo is ideal for you. Multiple levels of Expo/Table Sponsorship are available. For as little as $350 you can reserve an exhibitor space. Exhibitor spaces are designed for a six foot table and chairs. For the first time there is also an opportunity to sponsor a seminar room, providing you the opportunity to present a topic of interest to attendees. Seminar rooms are adjacent to the main exhibit area.
Additional benefits are available for Premium level Exhibitor/Sponsors, including exceptional pre-event exposure in Chamber weekly newsletters, emails, social media (including Facebook, LinkedIn, Pinterest, etc. and promotional materials. There will be almost 10,000 total promotional images leading up to the event, making premium level sponsorships an excellent value.
"The Pineville Business Expo provided an excellent opportunity for my company, QC Signs & Graphics, to gain additional exposure to the local business community. It not only generated leads, but we also go to know more about other businesses and business services available thru the Chamber. A big win for all! Good food, good people, and most importantly, more business. That's what the Pineville Business Expo is all about." Michael Leonard, President QC Signs and Graphics, commenting on his experience as a 1st Annual Pineville Business Expo Exhibitor.
**To purchase a sponsorship, select the Register >> button to the top right of this description.**
Sponsorship Levels and Benefits
Silver Level - Base level sponsorship. Includes one Exhibitor space plus your logo, contact information and a description of your business will be in the program distributed to all guests. You may provide giveaways, samples, or whatever else you desire.
Gold Premium Level - In addition to Silver Level benefits, Gold Level Sponsors get prominent recognition on event marketing materials including their logo. On promotional materials with click through capability, your logo will have click through capability directly to your website. Additionally, you will be highlighted as a Gold Sponsor in the Exhibitor program distributed to all attendees.
Platinum Premium Level - Only one available. This is the premier event sponsor. In addition to Silver and Gold Level benefits, the Platinum Sponsor receives top billing on all event promotional materials, emailings, social media, etc. plus premier table position within exhibit area, front cover on the program and top position on the entrance placard. This is an exceptional opportunity to obtain visibility for your business while demonstrating leadership in the Pineville Area business community.
Business Seminar Sponsors - Four available. Each sponsor has two 50 minute sessions during the exhibit hall hours. Topics must be approved in advance. Topics should focus in areas that are of interest to small-medium business owners who desire to grow or even start a business. You may display a placard and tell what your business does in 2 minutes, but you may not conduct an "infomercial". A special rate is available if you are both an Exhibitor and Business Seminar Sponsor.
Food Truck Sponsors - A limited number of spots are available n the parking lot adjacent to the building with easy access by attendees. Note: There is no other food available within or near the facility, providing excellent access to your food truck..
Tables and Chairs - Exhibitors may furnish their own 6 foot table and up to 3 chairs, or at their option may rent tables and chairs for the day of the event. To meet your needs, if you reserve tables and chairs from the Chamber, they must be ordered and paid for no later than Friday March 17th.
**To purchase a sponsorship, select the Register >> button to the top right of this description.**
Images
Pricing
Click Register >> button above to view pricing
1000 Johnston Drive



Pineville

,

NC

12834

United States



Located in Pineville Lake Park
Friday, March 24, 2023 (1:00 PM - 5:00 PM) (EDT)
Categories
Conference
Chamber Networking
Business Education
Member Events